This is an ARCHIVE version of our website provided FOR REFERENCE ONLY.
Information on this page may be inaccurate, especially regarding price and availability. Obsolete prices on a page that shows this header will not be honored.
For accurate and current information, be sure to visit our current website.
WELDMART UNI CONTROL POWER MODULE
The Weldmart UNI control module provides a simple interface between the AEC-200-4DM spool gun and
ANY MIG (CONSTANT POTENTIAL) POWER SUPPLY.
WELDMART UNI CONTROL MODULE FOR SNAP-ON & SYSTEMATICS POWER MIG MACHINES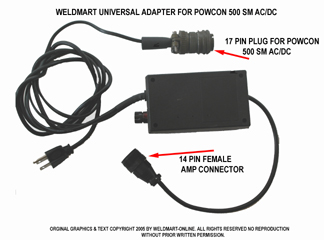 CLICK ON THE ENVELOPE TO SEND US A MESSAGE!
CALL US AT: 1-800-460-6474 (U.S.) INTERNATIONAL: 281-432-0250 SEND US A FAX AT: 281-749-8117
CLICK ON THE BLUE BUTTON TO RETURN TO OUR HOME PAGE

NOTE: Original graphics copyright WELDMART-ONLINE. Profax is a registered trademark. This webpage is copyright 2009, by Weldmart-Online. All rights reserved, no portion of this page can be reproduced in any form with prior written permission.