Tech Tip #7 Spark Plugs-What Nobody Told You
Spark plugs are one of the most misunderstood maintenance items on your welder. Read and learn!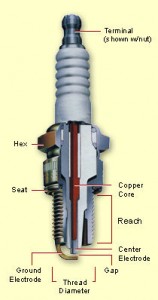 Removing Plugs
First, clean out the dirt around the base of the plug with compressed air to avoid it falling into the combustion chamber. Remove the old plug carefully from a cool head with a steady continuous pressure. Be careful not to use too much force which could result in stripping of threads and/or breaking the top of the plug. Once out, inspect the plug for the condition of the installation and the color of the deposits. Wet, oil soaked plugs are a sign of excessive ring wear. Black fouled plugs are a sign of too rich of mixture (have the carburator or fuel injector system checked). The plugs should have a light gray color-a sign of correct fuel/air mixture. If the present plugs are going to be re-used, carefully clean the threads (with a wire brush or wire wheel), make sure the spark gap is correct, and apply a light coat of anti-seize.
Installing the Plugs
Use a wire type spark plug gap measuring tool. Check your owner's manual for the recommended gap and then carefully thread in the new plugs by hand. Tighten with a torque wrench to the specs given below.
Torque Recommendations
(pound-feet)
 
Cylinder Head
Spark Plug Thread Size
Cast Iron
Aluminum
Squared shouldered, Gasket Type
8-12
8-12
10 mm
10-18
10-18
12 mm
26-30
18-22
14 mm
32-38
28-34
18 mm
 
 
or a one quarter turn after finger tight
 
 
 
Tapered Seat
 
 
14 mm
7-15
7-15
18 mm
15-20
15-20
or one-sixteenth of a turn after finger tight
 
 
 
Once clean, re-gapped plugs are back in, check your wires. Rubber ignition wires will deteriorate after a couple of years from exposure to heat, oil, grease, and vibration. Weldmart ignition wires will last a lifetime Weldmart ignition wire carry a lifetime warranty to the original purchaser. These wires will go a long way to enhancing engine longevity.