This is an ARCHIVE version of our website provided FOR REFERENCE ONLY.
Information on this page may be inaccurate, especially regarding price and availability. Obsolete prices on a page that shows this header will not be honored.
For accurate and current information, be sure to visit our current website.
ERGO 25 MIG GUN

The Ergo® 25 mig gun combines the proven simple wire feed technology of the Binzel® mig gun with an ergonomically designed handle and extended trigger lever. This lever can easily be removed by clipping it with wire cutters. The extended moves the operators hand further back on the gun handle relieving pressure on the wrist. The design helps retard the effects of "tunnel carpal syndrome".
You find that the gun has the feel of a fine target pistol in your hand (our customer's comments-not ours). the body can be opened with a "Phillip's Screwdriver" and by removing the ball joint ring-it snaps off.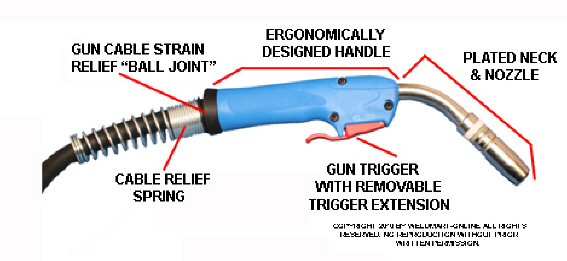 You can order your Ergo 25 mig gun assembled for the mig machine you have-no expensive additional adapters. the gun you need, when you want it at a great price!
Your local welding supply does not have this direct connect torch. We have these torches in stock and ready for shipment today! Please email or call us to order this torch!
CLICK ON THE ENVELOPE AND SEND US A MESSAGE! CALL US DIRECT & TOLL FREE AT 1-800-460-6474
CLICK ON THE CHAIN TO RETURN TO OUR HOME PAGE

Linde, L-Tec, & Esab are registered trademarks. Weldmart-Online is in no way affiliated with the Esab USA Inc.. References to the named torches, machines, and part numbers are for the convenience of our customers only. This web page is copyrighted by Weldmart-Online 2003 and reproduction In any form is prohibited by law.