LINCOLN® REPLACEMENT ARMATURE BEARING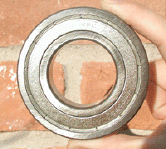 This armature bearing is used on Lincoln® SA-200 Pipeliner's.
We offer this superior product with a FIVE YEAR REPLACEMENT WARRANTY.

LINCOLN OEM P/N: M-9300-38 (below code number 7250)
LINCOLN OEM P/N: M-9300-19 (above code number 7250)
ENGINE DRIVE
SA-200 (Cont. F162/163), SA-250 (Gasoline & Diesel), SAE-300
CLICK ON THE ENVELOPE AND SEND US A MESSAGE!
CLICK ON THE CHAIN TO RETURN TO OUR HOME PAGE

Lincoln, Weld'N Power, ranger, & Power Arc are registered trademarks and property of The Lincoln Electric Corporation. Weldmart-Online is in no way affiliated with the Lincoln Electric Company. References to the named torches, machines, and part numbers are for the convenience of our customers only. This web page is copyrighted by Weldmart-Online 2002 and reproduction In any form is prohibited by law.