HYPERTHERM® MAX 200® PLASMA CUTTING TORCH h,028383,020384,120894,020536,120584,020963,120257,044027,128364,128365,220021,220083,120604,020605,020423,020424,020566,020415,020607,020608,020963,t-3874,t3874,020474,t-0384,t0384,t-2543,t-
The purpose of this web page is to provide the end user of the Hypertherm MAX 200 system unbiased information on the system, it's strengths, weaknesses, and more importantly ideas on how to make it's operation more--PROFITABLE! We offer original Hypertherm torch consumables, quality aftermarket consumables and torch upgrades.
The Hypertherm® PAC-160 plasma cutting torch is a water cooled cutting torch (both hand held and machine versions) capable of cutting currents up to 200 amps. This system is considered a "standard of the industry" because of it's torch simplicity, cutting capacity, and equipment reliability. If you own this system, be assured your money has been invested wisely. The following links will take you to our information pages, the information here is a combination of information from Hypertherm® files (that is in the public domain), information from other manufactures who manufacture consumables (and repair parts), and our thirty-years of personal experience in the field of plasma cutting industry.
a) PAC-160® Machine Torch & Consumables

b) PAC-160 Hand Torch & Consumables
c) MAX 200® Power Supply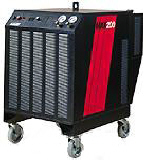 FOR MORE INFORMATION OR TO PLACE AN ORDER, CONTACT US HERE:

Email us here.
Call us at 1-800-460-6474 or Fax your request to 281-749-8117
To return to the Home Page, Click the Blue Icon

"Miller", "Spectrum", Hypertherm, Max, PAC, Century, Grainger, Linde, L-TEC, Snap-On, and "Dayton" are registered trademarks. Weldmart-Online is in no way affiliated with these companies or their affiliates. References to the named torches, machines, and part numbers are for the convenience of our customers only. This web page is copyrighted by Weldmart-Online 2003 and reproduction In any form is prohibited by law.