LINCOLN SA-200 (K6080 & K6090) ENGINE STARTERS
This page is our best effort to date (it is constantly being updated as new information is acquired) on replacement engine starters for Continental F-162, F-163, & L-200 engines. If you visit your local Lincoln dealer you will no doubt be surprised to find that they know very little about replacement starters for the SA-200 Pipeliner's! Lincoln, up until the 1990's, did a very poor job of documenting outsourced parts for the SA-200s.
This page contains starter information on starter for the Continental engines. Lincoln originally used the F-162 & F-163 engines. They changed to the Continental TM-27, and now use the GM 3.0 in the G-200. A one point Lincoln had the brilliant idea of buying the Continental engine in parts, have them shipped to their Cleveland plant, and then having them assembled! I am sure some "suit" had a reason (a good reason? Sure!) for buying engines in parts, but they quickly went back to buying engines assembled!
Lincoln purchased a "long block" engine (an assembled engine with head, manifold, water pump, and oil pan). They added their own bell housing, flywheel (with ring gear), carburetor, air cleaner, governor, ignition, starter, and electrical system. The original information on what items they added, who made them, and where they were purchased, may or may not be available!
We offer the information on this page as a guide. We cannot guarantee the accuracy of this information, it is our best effort to date. If you find a error please call or email us, so we may correct the information.
NOTE: WELDMART SELLS NEW (WHEN AVAILABLE) AND REBUILT STARTERS FOR THE SA-200. WE MAY REQUIRE A CORE BECAUSE MANY OF THE OLDER STARTER PARTS ARE BE COMING VERY DIFFICULT TO OBTAIN. PLEASE CALL US AT 800-460-6474 FOR FURTHER INFORMATION OR TO PLACE AN ORDER.
A. The best we can figure, the original 6 volt starter used on the F-162 engine was a Delco starter with a starter solenoid mounted on the starter. If you convert your system from 6 volts to 12 volts, this starter will function normally-just spin faster! We believe that at code 4815 Lincoln changed the SA-200 from 6 volts to 12 volt electrical systems. We have seen the L-4334 starter on S-models (short -hood) and maybe (we could have been hallucinating) some very early K-6090's. We offer this starter rebuilt or we can normally rebuild yours.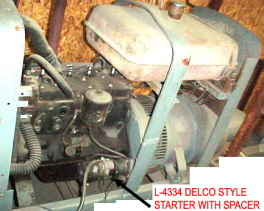 NOTE: There seems to be two versions of this starter, we are not sure. Some models used a metal "spacer" (P/N:S8073) and some did not. At this time Lincoln cannot tell us the difference!
The L-4334 is 2.870" from the edge of the mounting flange to the end of the starter "nose". The outside diameter of the "nose" is 3.25".
B. The SA-200 machines with the L-200 engines (made in the early 1960's) use starter P/N: L-3924. The best information we have to date says that this starter was used on code numbers 7167 thru 7242. We offer this starter rebuilt or we can normally rebuild yours.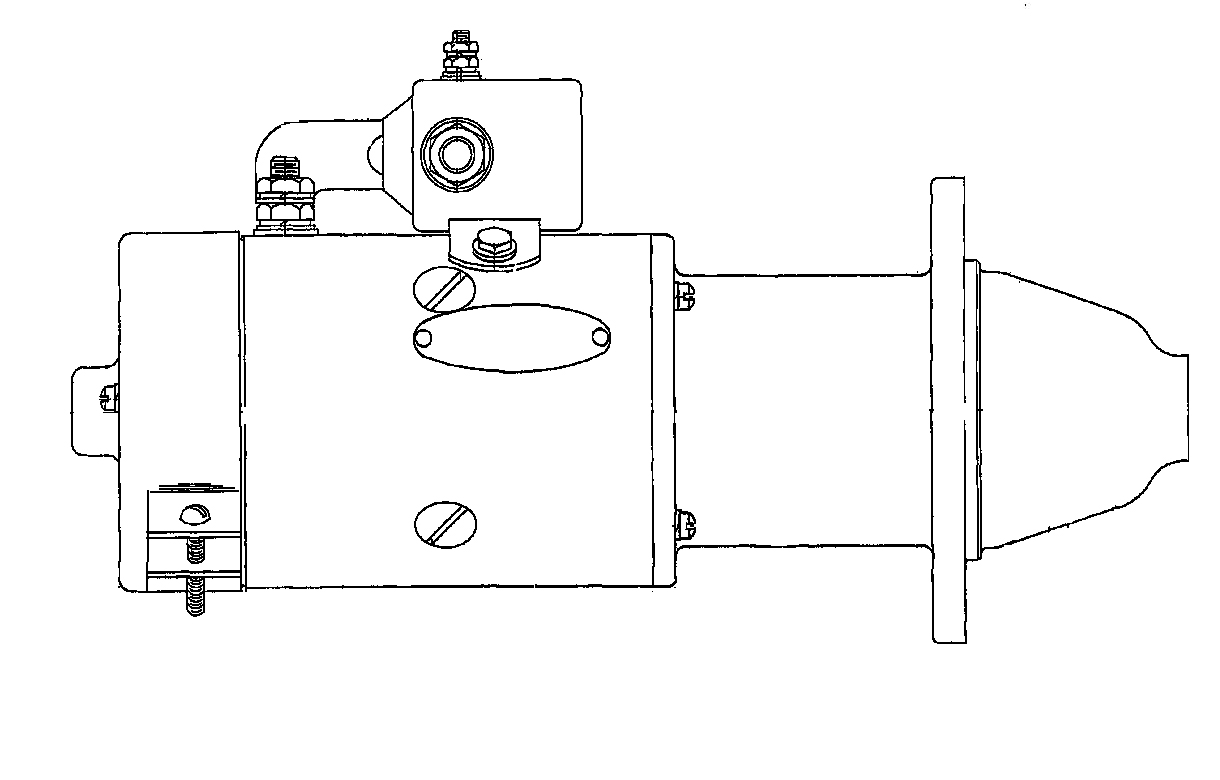 C. The best information we have to date says that this starter was used on code numbers 7276 thru 9530 used starter P/N: L-4718. This starter was manufactured by Delco and has a flat machined side (the side that goes next to the block). FYI, this starter was used on the SA-250-F-163, SA-300-F163, & some SAE-300-F163 with the Continental F226/227. We offer this starter rebuilt or we can normally rebuild yours. If you need more information contact us, the numbers are at the bottom of this page.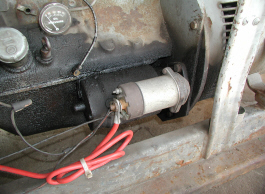 This is a typical L-4718 starter installation.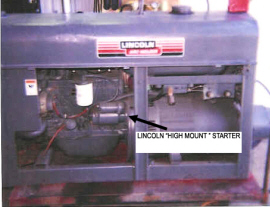 This is typical starter mount for code numbers 9530 and above manufactured in Canada, note these were the last units made with the Continental F-163 engine. This starter is known as a "high mount" starter! We offer this starter rebuilt (P/N: RTS-0376) or we can normally rebuild yours.
FOR MORE INFORMATION OR TO PLACE AN ORDER, CLICK ON THE ENVELOPE AND SEND US A MESSAGE!
OR CALL US TOLL FREE AT 800-460-6474 or FAX: 281-749-8117

THIS CATALOG & THIS PAGE ARE COPYRIGHTED BY WELDMART-ONLINE 2004, ALL RIGHTS RESERVED. NO REPRODUCTION, IN ANY FORM, WITHOUT PRIOR WRITTEN PERMISSION.
CLICK ON THE BLUE BUTTON TO RETURN TO OUR HOME PAGE

Lincoln, Weld'N Power, Ranger, K6090, Pipeliner, Fairbanks Morse, Continental, Bosch, American Bosch, & Power Arc are registered trademarks. Weldmart-Online is in no way affiliated with these companies. References to the named torches, machines, and part numbers are for the convenience of our customers only. This web page is copyrighted by Weldmart-Online and reproduction In any form is prohibited by law.