This is an ARCHIVE version of our website provided FOR REFERENCE ONLY.
Information on this page may be inaccurate, especially regarding price and availability. Obsolete prices on a page that shows this header will not be honored.
For accurate and current information, be sure to visit our current website.
REPLACEMENT PARTS FOR LINCOLN GOVERNOR (HOOF M9130) SA-200 F-162/F-163/L-200 ENGINES
The governor shown in the image below is sold under the Lincoln original part number M-9130. This governor is the "Hoof" style and is the only new mechanical governor (magneto style) available. Lincoln sold two governors under the same part number
M-9130.
Pierce Governor P/N: GC-338-ARD
Hoof Governor P/N: GD-899A
The governors are identical in mounting and carburetor linkage installation. Their internally mechanisms are totally different. They use the same diameter and style governor drive gear, except the hole size is different. Here at Weldmart we can sell you the correct drive gear. Please contact us our contact information is listed at the bottom of the page.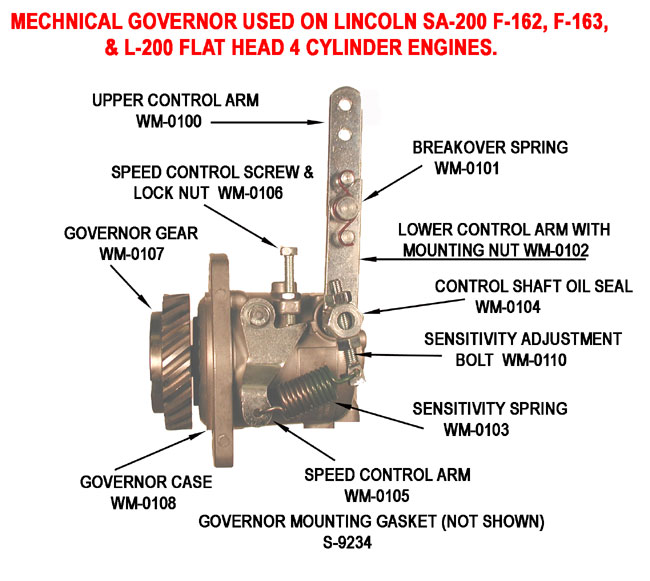 We normally stock all the parts listed. Please call or email us for pricing and delivery.
CALL US AT 800-460-6474 FAX US AT 281-749-8117 CLICK ON THE FOLDING ENVELOPE AND SEND US A MESSAGE!

CLICK ON THE CHAIN TO RETURN TO OUR HOME PAGE

Lincoln, Weld'N Power, ranger, & Power Arc are registered trademarks and property of The Lincoln Electric Corporation. Weldmart-Online is in no way affiliated with the Lincoln Electric Company. References to the named torches, machines, and part numbers are for the convenience of our customers only. This web page is copyrighted by Weldmart-Online 2004 and reproduction In any form is prohibited by law.