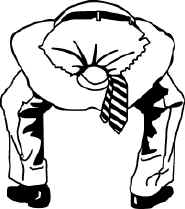 'JOHN G" TYPICAL WELDING KNOW IT ALL!
HE KNOWS EVERYBODY IN THE INDUSTRY! HE WILL ENDLESSLY REGALE YOU WITH STORIES OF HIS SALES EXPLOITS. POWERS AND ABILITIES--FAR BEYOND THE NORMAL SALESMAN! THE CUSTOMERS HE HAS PERSONALLY SAVED FROM BANKRUPTCY WITH HIS "ONE OF A KIND", JUST IN TIME, TECHNICAL BRILLIANCE. AND OF COURSE THE "IDEA"--THAT SOMEHOW NEVER MADE IT TO THE MARKET. HE IS THE WELDING GURU-UNTIL YOU CAME ALONG WITH YOUR LITTLE PROBLEM-AND NOW YOU WHAT HE REALLY IS!
THE PROBLEM WITH THE WELDING SUPPLY INDUSTRY!
The welding fabrication supply industry and it's related support industries are imploding across the United States and Canada. I, my customers, and suppliers all have the same problem; a critical lack of capable, technically knowledgeable, and competent PEOPLE!
Everyday I get phone calls from some customer (sometime from my suppliers) needing answers because he is frustrated trying to deal with someone like the guy on the left. The guy at your local supplier doesn't know the welding business. (Don't be surprised if he asks you; want "fries" with that bottle of oxygen) If you can't give him a part number, color, description, what you paid for it, what it does, what you are going to use for, he (or she) is TOTALLY CLUELESS!
When I have to explain to a major OEM (You Would INSTANTLY RECOGNIZE THE COMPANY!) engineer the DIFFERENCE between a POSITIONER and a manipulator-the industry is in TROUBLE BIG TIME!
I personally have been in the welding fabrication business since 1973. Words like Airco, Linde, Chemtron, Glenn, Oxweld, Plasma-Arc, Wilson, "Pinch-Arc", Chemtron, Sureweld, Union Melt, Westinghouse, Eutectic, Microwire, Heliweld, "Smoky Joe" are very familiar. I don't have all the answers, but I know where to lay may hands on most.
Maybe we can help!

This Web Page and original artwork are produced and the copyright held by Weldmart-Online, 2001. Duplication, without prior written permission, in any form is, prohibited.