This is an ARCHIVE version of our website provided FOR REFERENCE ONLY.
Information on this page may be inaccurate, especially regarding price and availability. Obsolete prices on a page that shows this header will not be honored.
For accurate and current information, be sure to visit our current website.
THIS PICTURE IS AN HONEST DEPICTION OF TWO IDENTICAL TIG TORCHES WITH THE SAME GAS FLOW RATE!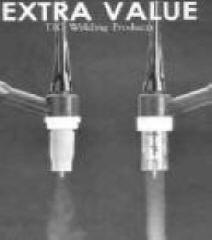 REDUCE YOUR SHIELDING GAS CONSUMPTION BY 40%! GAS PRICES ARE ONLY GOING UP!
EVERY DIME YOU DON'T HAVE TO SPEND ON SHIELDING GAS: PUTS DOLLARS ON YOU BOTTOM LINE---END OF STORY!
---
CK WORLDWIDE has developed the best tungsten mounting system; inexpensive, saves gas, and increases tungsten life!
---
THE WEDGE COLLET
The "Wedge Collet" is the first major advancement in tungsten locking technology in fifty years! This is very important for one major reason; the collet is what electrically connects the tungsten to the torch. The better the electrical connection, the cooler the torch will run. Your torches will last longer, plus more welding power gets to the arc, instead of increasing the heat in torch head. Try one:You will never go back!
NOTE: This collet can be (and SHOULD BE!) used in CK, L-Tec, Profax, Esab, ThermoCut, and Weldcraft Linde models 9, 17, 18, and 26.
---
QUESTIONS? OR TO PLACE AND ORDER: SEND US A MESSAGE!
Call us at 1-800-460-6474 or Fax your request to 281-749-8117
To return to the Home Page, Click the Blue Icon

---
CK® and GASSAVER® are registered trademarks of CK WORLDWIDE Inc. and are used by permission. Profax®, Esab®, Ltec®, Weldcraft®, Thermocut®, and Linde® are registered trademarks. WELDMART-ONLINE is an authorized distributor for CK Worldwide, Weldcraft, and Profax. References to the named torches, machines, and part numbers are for the convenience of our customers only. This web page is copyrighted by Weldmart-Online and reproduction In any form is prohibited by law.trademark and property.